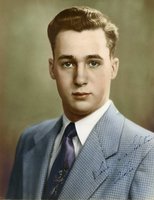 Edward Girard Levesque
Edward Girard Levesque, age 83 years, passed away on September 12, 2017 in Camas, Washington. Edward was born to Roland and Antoinette (Berube) Levesque on December 19, 1933 in Summit, New Jersey. He was an 11 year resident of Camas, Washington.
Edward was a Veteran of the Korean Conflict, serving in the United States Air Force. He was a member of Knights of Columbus.
He is survived by his wife, Sandra of 62 years; sons, Edward G Levesque Jr of Beaverton, OT, Roland (Thia) Levesque of Scappoose, OR, Gary (Connie) Levesque of Brightwood, OR, sisters; Janet Barber of Summit, NJ, Rolanda Parkins of Summit, NJ, Claudia Francour of Norwalk, CT, Yvette Sempeir of Summit, NJ, brother and sister-in-law, Michael & Alice Galaty of Orange, CT, 15 grandchildren, 1 great-grandson, 1 great-granddaughter, numerous nieces and nephews.
He is preceded in death by his parents.
Inurnment will be held at Willamette National Cemetery on Thursday, September 21, 2017 at 10:30 AM.
Brown's Funeral Home & Cremation Services have been entrusted to the arrangements.
Please sign Edward's guestbook at: www.brownsfh.com