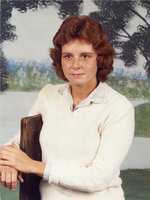 Cathaleen Elizabeth DeTrant
Cathaleen (Kathy) Elizabeth DeTrant, age 60 years, passed away on November 9, 2017 in Portland, Oregon. Cathaleen was born to Peter and Joyce (Franklin) DeTrant on December 9, 1956 in Pleasanton, California. She was a Vancouver resident since 1995.
Cathaleen received her Bachelor of Arts degree from Eastern Washington University and belong to the EP Silom Pi Tau Soriety. She worked as an Engineer in the Mechanical Industry. She was a Veteran in the U.S. Army and U.S. Navy serving her country in Vietnam.
She is survived by her mother, Dorothy June DeTrant of Salem, OR; daughter, Jessica DeTrant of Vancouver, WA; brothers, Pete DeTrant, Herald DeTrant, John DeTrant and 2 grandchildren.
She is preceded in death by her father.
A Graveside Service will be held on Tuesday, December 5, 2017 at 10:30 a.m. at Willamette National Cemetery, 11800 SE Mt Scott Blvd, Portland, OR.
Brown's Funeral Home & Cremation Services have been entrusted to the arrangements.
Please sign Kathy's guestbook at: www.brownsfh.com