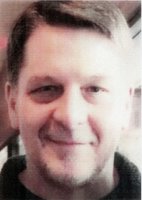 John Wesley Corbin, Jr
John Wesley Corbin Jr, age 54 years, passed away on November 19, 2017 in Vancouver, Washington. John was born to John and Arlene (Hawes) Corbin, Sr on August 13, 1963 in Portland, Oregon. He was a 17 year resident of Vancouver, Washington.
John is survived by his fiancee, Kelly Richardson of Vancouver, WA; two sons, Bryce Ballard of Silver Falls, Idaho, Joshua Frahm of Walla Walla, WA; daughter, Alena Frahm of Vancouver, WA; sister, Juanita Jones of Vancouver, WA and seven grandchildren.
He is preceded in death by his parents.
A viewing will take place on Sunday, November 26, 2017 from 1 PM to 5 PM at Brown's Funeral Home, 410 NE Garfield St, Camas, WA.
Brown's Funeral Home & Cremation Services have been entrusted to the arrangements.
Please sign John's guestbook at: www.brownsfh.com