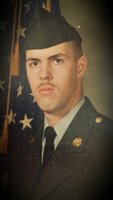 Johnny Richard York
Johnny Richard York, age 56 years, passed away on November 19, 2017 in Vancouver, Washington. He was born to Richard and Carolyn (Sawyer) York on July 6, 1961 in Altadena, California. He was a 33 year resident of Clark County. He worked as a machinist at Boeing Air Craft.
Johnny is survived by his wife, Lorna at home; three daughters, Christina Shupert of Camas, WA, Melanie A York of Washougal, WA, Tamar J Perrenoud of Tacoma, WA; brother, Bryan York of Olympia, WA, Terry James of Seattle, WA; sisters, Becky Atkinson of Olympia, WA, Kathy Saunders of Shelton, WA, Sarah Hart of Shelton, WA; father, Richard York of Castle Rock, WA and two grandchildren.
He is preceded in death by his mother and sister.
Per the family there will be no service
Brown's Funeral Home and Cremation Services have been entrusted to the arrangements.
Please sign his guestbook at: www.brownsfh.com