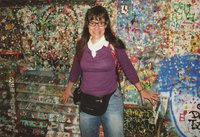 Christy Denise Johnston
Christy Denise Johnston, age 44 years, passed away on November 23, 2017 in Washougal, Washington. Christy was born to Allan & Lynn (Poplinger) Johnston on March 16, 1973 in Stamford, Connecticut. She was a 25 year Washougal resident.
Christy attended the Radiant Church in Camas, Washington. She enjoyed scrapbooking, movies and she was a collector of cans.
She is survived by her mother, Lynn Arden of Richland, WA; brothers, David Johnston of Puyallup, WA and Jeff Johnston of Denver, CO.
She is preceded in death by her father.
A Celebration of Life service will be held on Thursday, December 7, 2017 at 3:00 pm at Radiant Church, 2717 NE 3rd Ave, Camas, WA. Interment will be held at Fern Prairie Cemetery, Camas, WA.
Brown's Funeral Home & Cremation Services have been entrusted to the arrangements.
Please sign Christy's guestbook at: www.brownsfh.com