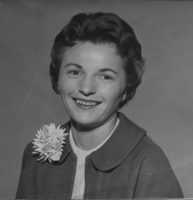 Alice Carol Blake
Alice Carol Blake passed away on January 5, 2018. She was 87 years old.
Alice was born to her parents Dorothy and Albert Anderson on March 5, 1930 in Lincoln, Nebraska. She has been a Clark County resident since 1935, and graduated from Washougal High School. Alice was very involved in the community and in her church. She was an artist at Artist Gallery #21, a deacon at St. John's Presbyterian, a boy scout leader, and a volunteer with the Camas school district. She also was a member of the League of Republican Women, serving on the Clark County Election Board and the Camas/Washougal Parks Board. Alice enjoyed playing Bridge.
Survivors include her two daughters: Glenda (Thomas) Thoroman of Camas, Sherrie (Allen) Thomas of Vancouver; her three sons: Richard Blake of Washougal, Chris Blake of Vancouver, and John (Jamie) Blake of Woodland; 13 grandchildren, 14 great-grandchildren and 1 great-great-grandson; three brothers: Alan, Virgil and Tom, and her sister, Lynette.
Alice was preceded in death by her parents, her husband Glenn, a granddaughter, and three sisters.
A graveside service at the Camas Cemetery will take place at 1:00pm, followed by a celebration of life service at St. John's Presbyterian Church, Tuesday, January 16 2018. Arrangements have been entrusted to Brown's Funeral Home. To sign the online guestbook, please visit www.brownsfh.com