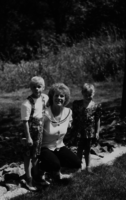 Arlene Janette Conaway
Arlene Janette Conaway passed away on January 7, 2018 at the age of 60.
Arlene was born on February 2, 1957 to her parents Loretta and Roger Malfait in Vancouver, Washington. A lifelong Washougal resident, Arlene worked for 25 years at the Camas Paper Mill. After retirement, she worked at Bethel Community Church. She was deeply loved.
Arlene is survived by her husband Charles, two daughters: Crystal Ann Conaway, Marie Janette Conaway, and grandaughter Bella Marie Conaway, and her stepdaughter Rondie White and her son Tyler; her twin brother Arthur (Teresa) Malfait, her brother Scott (Sheryl) Malfait and her sister Carolyn (Steve) Chaney. She was preceded in death by her parents.
A private family celebration will be held at a later date. Arrangements have been entrusted to the care of Brown's Funeral Home. To sign the online guestbook, please visit www.brownsfh.com