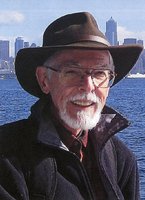 James Gordon Atkins, Jr
James G. Atkins, Jr., passed away on Sunday, January 21, 2018 in the comfort of his home in Loveland, Colorado from congestive heart failure. He was born on May 3, 1947 to Peggy and James G. Atkins, Sr. in Fort Worth, Texas.
Jim spent his early years crisscrossing the country following his father's Air Force service, yet frequently returning to his grandparents' home in Camas, Washington, which was always his true home at heart. Jim was very active in the Boy Scouts, attending many Boy Scout trips that left lasting memories, including the Boy Scout's 50th Anniversary 1960 National Jamboree in Colorado Springs. Jim earned his Eagle rank in 1961. These early experiences ignited Jim's inherent passion for outdoor adventures, which remained steadfast throughout his life.
Jim graduated from Camas High School in 1965. After a brief, but vibrant, stint at Georgia Tech, Jim joined the Navy and served from June, 1967 to March, 1971, being honorably discharged as a Yeoman Petty Officer 2nd Class. Jim earned a Bachelor's of Science in Psychology from Portland State University in 1973 and a Masters of Business Administration at Oregon State University in 1975. Jim's MBA led him to a CPA license and multiple corporate moves that took him back to the East Coast. In the early 1980s, he and his family moved to Longwood, Florida where he and his wife owned two successful general accounting practice businesses. Jim earned his Forensic Certified Public Accountant designation when it was first developed and was also involved with many local charities, including the local chapters of the Better Business Bureau, American Cancer Society, and Angel Flight. Of his professional successes, Jim was most proud of having provided robust employment, compensation, and benefits packages to their employees, despite their businesses' small size.
Seeking proximity to family and the Western landscape, Jim and his wife moved to Colorado in 2009 upon retirement. From there, Jim launched many a Mountain West adventure and pursued his interest in family history. His crowning genealogical achievement was organizing a family reunion of descendants of his great-great grandfather, Samuel Atkins, in Wellington, New Zealand in 2017.
Jim is preceded in death by his parents and is survived by his wife, Kathleen, and daughter, Rebecca (Kevin) Brown, six siblings, numerous nieces, nephews, great-nieces, and great-nephews, and many degrees of cousins near and far.
A Celebration of Life will be held on Sunday, February 18, 2018 at 10:00 A.M. at Brown's Funeral Home in Camas, Washington, with a graveside interment at Fisher Cemetery in Vancouver, Washington immediately following. A reception will be held immediately following the interment; details will be announced at a later date. Everyone is welcome at all of the events.
In lieu of flowers, please consider a donation to the House of Neighborly Service in Loveland, Colorado or to the Camas VFW's post's Voice of Democracy scholarship fund (checks may be addressed to VFW Post 4278, P. O. Box 579, Camas, WA 98607, with Voice of Democracy noted in the Memo line), The family owes its heartfelt thanks to Dr. Taliaferro of the UCHealth Family Medicine Clinic - North Loveland, Halcyon Hospice, and the countless loved ones who have supported them surrounding Jim's passing.
Brown's Funeral Home and Cremation Services has been entrusted to the arrangements.
Please sign Jim's guestbook at: www.brownsfh.com