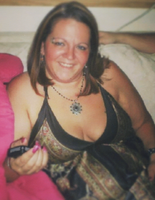 Danette Marie Nevins
Danette Marie Nevins (Trujillo) known to all her fans as "Dane'girl", chose to leave this phase of life and move onto the next this year on February 3, 2018, at the age of 50. She was ready!
Dane' was born on February 17, 1967 to her beloved parents Bette Jo Chavez and Aniano Phillip Trujillo in Salt Lake City, Utah. 'Dane'girl' was a 27-year resident of Clark County. Dane' was known as a party girl, who worked at bars around the town, she was the wild child. She made sure she worked hard to take care of herself and her family, Dane' had a huge heart and she would pick up homeless take them home to shower, wash their clothes and feed them a hot meal. While also being a rebel with an impish spirit she partied hard at night and on the weekends, Dani loved to dance, sing karaoke, play practical jokes and could typically be found creating mischief of all kinds. She was quite the little stinker stealing the 8 balls from many billiard sets, swiping lighters from gas stations every time she had an opportunity, and keychains from who knows where because as she said " I CAN". Her house is filled shot glasses she collected from places she went or as gifts from friends and family. There are so many pens she had taken from everywhere! She bought dozens of cookbooks she never even opened! She stocked up for the apocalypse, always enough food to feed the neighborhood. Everyone knew that if they needed something...Dane' most likely had it and all they had to do was ask! She loved to help people.
Survived by her Husband Levi Nevins in Vancouver, Washington; her mother Bette Jo in Price, Utah; her two daughters: Athena Winch, of North Bonneville, WA; Chantell Winch and her son Dalton Warner both of Vancouver,WA. 5 grandchildren Brayden, Shaylynn, Ta'lieya, Jada, JJ; her siblings: Cindi Curry, Aniano Trujillo, Esperanza Trujillo, Tona Lopez-Hill, Nate Aspelund, Tia Aspelund; as well as 17 nieces and nephews, and a few great nieces and nephews.
She was preceded in death by her Father Aniano.
A celebration of Danette's colorful life will take place June 1st at a time to be determined. Those who wish to send flowers may contact Mystic Gardens Floral at (360) 989-6386. Those who wish to join in celebrating her life stories and experiences please visit, www.Forevermissed.com/dane-girl-marie-nevins Arrangements have been entrusted to the care of Brown's Funeral Home. To sign the online guestbook, please visit, www.brownsfh.com