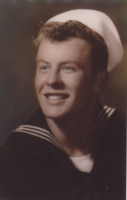 Bruce Allen Stevens
Bruce Allen Stevens passed away peacefully at home on February 15, 2018. He was 75 years old.
Bruce was born on April 18, 1942 in Vancouver, Washington to his parents Joan and Robert Stevens. Bruce was a veteran in the U.S. Navy, serving during the Vietnam War. A nearly lifetime Clark County resident, Bruce worked as a millwright for Hamilton Brother's Woodmill. He married his sweetheart Patricia in 1965 and they were together until her death in 2006.
Survivors include his 5 children: Robert (Tania) Stevens of Washougal, Bruce B. (Lanette) Stevens of Washougal, Raymond (Elizabeth) Stevens of Vancouver, Joseph Stevens of Vancouver, and Melissa (Derek) Engler of Washougal; his sister Roberta Stevens; 10 grandchildren, and 2 great-grandchildren. He was preceded in death by his parents, his wife, older brother Douglas Stevens and younger sister Rita McGarraugh.
A graveside service will take place on Friday, February 23 at 1 PM, at Fern Prairie Cemetery. Those who wish are invited to make a donation to www.Veteranswhocarefoundation.com - P.O. box 561 Washougal Wa 98671. Arrangements have been entrusted to the care of Brown's Funeral Home. To sign the online guestbook, please visit www.brownsfh.com