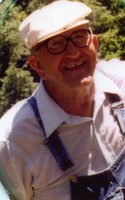 James Max Barr
James Max Barr, age 85 years, passed away on February 25, 2018 in Vancouver, Washington. He was born to Ralph and Anna (Walters) Barr on April 9, 1932 in Arriba, Colorado. He was a resident of Washougal, Washington for 40 years.
James was a member of the Church of Christ. He loved his family and spending time with them. His other interest were raising calves and he enjoyed LaCamas Lake Swim Club.
James is survived by his wife of 65 years, Lois at home; sons, Jerry (Julie) Barr of Washougal, WA, Ralph (Judy) Barr of Zillan, WA, Jake Barr of Tacoma, WA; daughters, Eda Barr of Pasco, WA, Joanna Corrales of Tacoma, WA, 15 grandchildren and 42 great-grandchildren.
He is preceded in death by his parents, brothers and sisters.
At his request there will be no service.
Brown's Funeral & Cremation Services have been entrusted to the arrangements.
Please sign James guestbook at: www.brownsfh.com