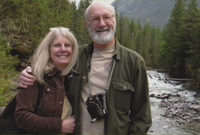 Gregory Ted Jackson
Gregory Ted Jackson passed away on March 2, 2018 at the age of 73.
Gregory was born on September 4, 1944 in Waukesha, Wisconsin to his parents Elizabeth and Theodore Jackson. Greg earned his Ph.D. and MBA at Columbia University in New York, and was a member of Phi Beta Kappa. He enjoyed contra dance and social waltz, as well as pickleball and Zumba at LaCamas Athletic Club. In his younger days, Greg loved marathon running and sailboarding. He loved nature, espeically the beauty of springtime. Greg worked as a systems analyst, retiring from Tektronix. He was an eight year Camas resident.
Greg is survived by his loving partner Mary Christine Benton; his daughters Elizabeth (Erik) Ekdahl and Annie Jackson, his son Whitney (Liz) Jackson; 2 grandchildren; his brother Douglas Jackson and his sister Linda Baker. He was preceded in death by his parents.
A celoebration of Greg's life will take place on Friday, April 13, 2018 at 8:00 PM at the Norse Hall - 111 NE 11th Ave. Portland, OR 97232. Arrangements have been entrusted to the care of Brown's Funeral Home. To sign the online guestbook, please visit www.brownsfh.com