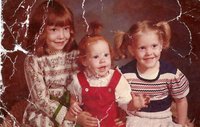 Kimberley Rose Crawford
Kimberley Rose Crawford passed away at home on March 18, 2018, surrounded by family after a 12 year battle against cancer. She was 42 years old.
Kim was born on September 24, 1975 to her parents Laverne and Robert Selph, in Vancouver, Washington. A lifetime resident of the Pacific Northwest, Kim loved animals and playing bingo.
She is survived by her husband Timothy Crawford, her mother Laverne Morris; 4 children: Rosie Crawford, Jessica (Derek) Reed, Sean Henry Crawford, and Emily Crawford; 2 grandsons (and another on the way!), her sisters Christine Bulanadi and Carry Edwards, as well as numerous aunts, uncles, neices, nephews and cousins. She was preceded in death by her father, her brother, and a half sister.
A memorial service will take place at a later date. Arrangements have been entrusted to Brown's Funeral Home.