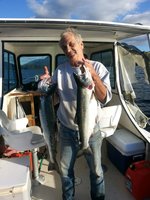 Stephen Patrick McDermott
Stephen McDermott passed away on March 19, 2018. He was 69 years old.
Stephen was born on August 13, 1948 to his parents Marjorie and John McDermott in Cleveland, Ohio. He was a veteran of the U.S. Army, serving during the Vietnam era. Stephen owned and operated McDermott Fence Company for 34 years. Stephen was a 9 year Washougal resident, and a member of the Episcopal Church. He enjoyed traveling and spending time with his family.
Stephen is survived by his Wife Theresa at home, his 2 sons: James (Debbie) Sese of Milwaukie Oregon and Patrick McDermott of Molalla, Oregon; his daughter Dusty Gilbert of Milwaukie, Oregon; his grandson Colin, and his cousin Stephen Morris. He was preceded in death by his parents, and his brother Peter.
A celebration of Stephen's life will take place Saturday, March 24th at 1 PM at Brown's Funeral Home. Those who wish may sign the online guestbook at www.brownsfh.com