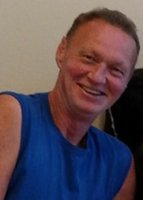 Thomas Mills
Thomas Duane Mills passed away on April 3, 2018. He was 60 years old.
Thomas was born on April 25, 1957 in Los Angeles, California to his parents Linda and Virgil Mills. Thomas was a 40+ year Washougal resident and worked in construction as a home builder. He was a poet, songwriter, and well loved singer and guitar player. His passion was music and basketball, and the light of his life was his son, Thomas. He was deeply loved and will be truly missed by all who knew him. Those who touch our lives stay in our hearts forever.
He is survived by his Mother: Linda (husband Larry) Rowland of Camas; his son Thomas Mills of Washougal, grandmother Wilma; girlfriend Susan Mayor, sisters Sherry Mills of Camas and Christie (husband Jon) Robinson of Astoria; nephews: David, Daniel, Tyler, Stephen; his niece Cheyenne; and his great-niece and nephew Aubrey and Connor. He was preceded in death by his Father.
A celebration of life service will be held at a later date. Arrangements are entrusted to the care of Brown's Funeral Home. To sign the online guestbook, please visit www.brownsfh.com