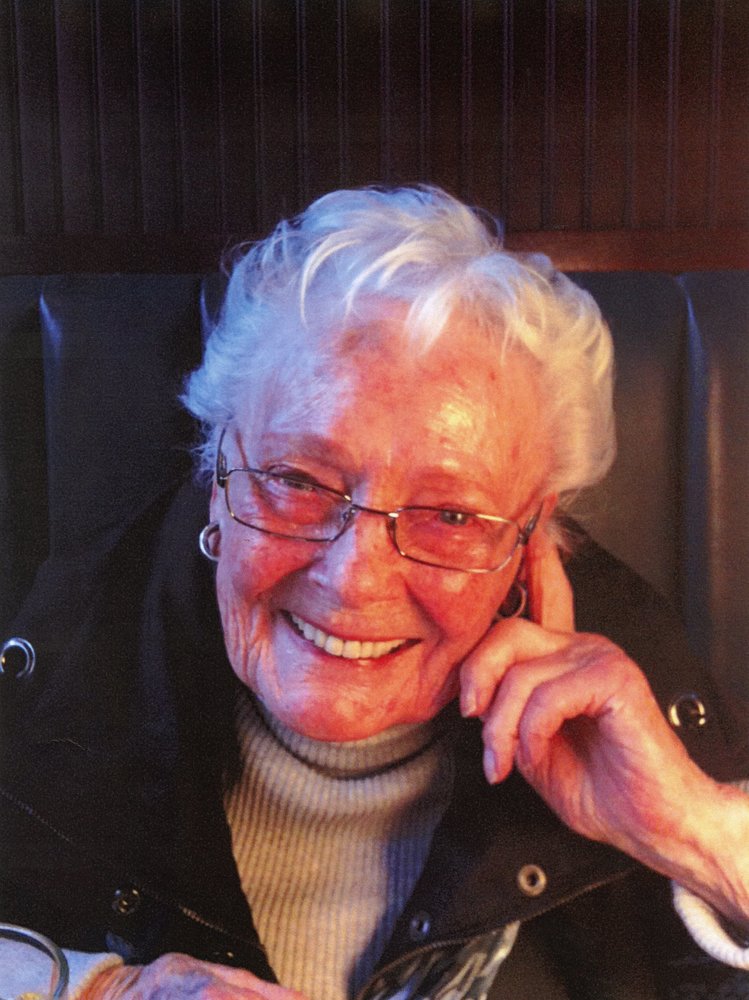 In Memory of
Jean Lorraine Nordstrom
1922 - 2017
Obituary of Jean Nordstrom
December 6, 1922 - June 5, 2017
A Celebration of Life Service will be held on Saturday, July 15, 2017 at 2 P.M. at Brown's Stoller Memorial Chapel, 410 N.E. Garfield St., Camas, Washington.
On June 5, 2017 after a year's battle with cancer, Jean L. Nordstrom passed away in her sleep at Evergreen Hospice in Kirkland, Washington. She was 94 years old and still bright eyed and inquistive.
In October, Jean had moved from her longtime and beloved home in Vancouver at Shorewood West to Kirkland with her son Gunnar. Nephews James Atkins Jr and Ron Arens along with Niece Paulette Arens Gordon and friend Tina Paulson were instrumental in her care throughout the summer and fall of 2016 while navigating Chemotherapy and Radiation before moving to Kirkland for care with the doctors of Seattle Cancer Care Alliance.
Kirkland brought a new adventure and happy existence for her the past 7 months by sharing a beautiful home with her son. She enjoyed a spectacular yard blooming with flowers, bunnies, birds and an active street of dog walkers and joggers allowing her day to be filled with lots of activity. The Wall Street Journal, Time Magazine, a good book, her IPhone and Facebook were always close at hand. New neighbors became quick friends and everyone she met liked her. They admired her inquisitiveness, quick wit, her amazing ability to converse on current events and her friendly and kind outlook.
It is with great gratitude that we thank the Doctors of the famed Seattle Cancer Care Alliance that allowed her an extended and mostly pain free life until the end. Her home Hospice nurse, Inja, home companions Deborah and Tess were adored and respected. Gunnar loved her dearly and did his best and to create a happy and enjoyable environment before she moved on to her next adventure.
Born in 1922 in Fishers, Jean grew up in Camas. The daughter of Gordon and Edith Atkins and sister to Margaret Sherman and James Atkins Sr. She moved to San Francisco soon after High School for Business School where she met and married Gus H. Nordstrom. After Gus returned from duty during WWII, they opened a curbside restaurant named "The Quickie" in San Francisco.
Soon after their marriage, Gus and Jean were awarded the custody of niece and nephew Ron and Paulette where they raised them in a loving family for six years before their own son, Gunnar was born in Morgan Hill California. Her husband Gus passed away early in life at age 44, but his memory lives on with the Gus H. Nordstrom Middle School in Morgan Hill where he was a respected business leader.
Jean, Ron and Gunnar moved to Camas in the early 1960's to be closer to her parents and Paulette was already living on Whidbey Island at the Navy Base. She quickly began another career with Crown Zellerbach which she would retire from in 1981 as Supervisor of Stenographic's after many years as Executive Secretary to the succession of Mill Managers. Jean was a third generation CZ employee and Ron and Gunnar both worked at the mill during their summer vacations.
After retirement, Jean always said she wondered how she could have had time to ever work since she was so busy now. She was never one to sit quietly and felt best when active.
Her life was full of friends, volunteering with the local chapter of the AAUW and she continued to further her education with classes at Clark College for fun. She enjoyed interacting with her condo association where she made many close friends. Playing bridge well into her 93rd year was a pleasure she so enjoyed as was supporing her son Gunnar with his art gallery in Kirkland and Bellevue. She would make many trips by car and later by train for gallery openings, holidays, great dinners at Daniel's Broiler and finally ending up there for the final months of her life. Her support of family and friendships were never ending and always with a positive outlook and helpful hand.
Jean will be missed by many people whom she touched during her life and now has the privilege of eternal life reacquainting with family and friends of the past. We are confident that everyone today who knew Jean will look forward to seeing her again.
Brown'[s Funeral Home & Cremation Services have been entrusted with the arrangements. Please sign her guestbook at: www.brownsfh.com
410 NE Garfield Street | Camas, Washington | 98607 | (360) 834-3692