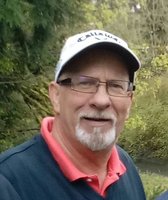 Vernon George Sadewasser
Vernon George Sadewasser passed away June 16, 2018. He was 65 years old.
Vern was born on February 15, 1953 in Vancouver, Washington to his parents Connie and Lewis Sadewasser. A lifetime resident of Clark County, Vern enjoyed fishing and golfing, and was the Karaoke King of the BigFoot Tavern.
He is survived by his sister Dolly Burnett, his children Ryan, Kevin, Sabrina and Beau, and his 10 grandchildren.
There will be no services at his request.