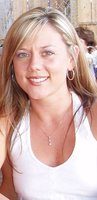 Chantell Alia Wilsey
Chantell Alia Wilsey of Camas passed away on November 14, 2018. She was 43.
Chantell was born on January 19, 1975 in Salem, Oregon to her parents Ron and Vidette Monroe. Chantell was a 20 year Clark County resident. She loved her family, especially her children, she enjoyed flowers, shopping, event planning, fashion and animals.
She is survived by her husband Eric, her son Evan and daughter E'lin, her parents Ron and Vidette, and her brother Kaagen Monroe.
There will be a viewing held at Brown's Funeral Home on Tuesday, November 20 from 1PM, followed by burial at Fern Prarie Cemetery at 2:30 PM.