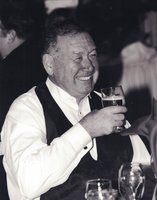 Leonald Jacob Heltzel
Leonald Jacob Heltzel passed away at home surrounded by his loved ones on November 26, 2018. He was 79.
Leonald was born on April 9, 1939 in Portland, Oregon to his parents Lucille and Ralph Heltzel. Leonald graduated from Jefferson High School, and went on to serve in the Navy before working as a lead man for the Port of Portland. He was a 6 year resident of Vancouver, and was a member of the Vancouver Elks Lodge #823.
Leonald is survived by his wife Donna Heltzel,, daughter Yvonne (Dana) Isaacson, daughter Terry (Steve) Reynolds, son Kim (wife Georgia) Ketchmark, and daughter Kelly (husband David) LaRue, as well as 5 grandchildren. Leonald was preceded in death by his parents.
There will be no public services per his request. Arrangements have been entrusted to Brown's Funeral Home. To sign the online guestbook, please visit www.brownsfh.com