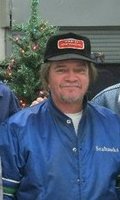 Michael Allen Townsend
Mike Townsend of Vancouver, age 60, passed away Wednesday, December 12, 2018. He slipped away peacefully with his son, stepdaughter and siblings beside him after a short battle with pancreatic cancer.

Mike was born to Beverly Yvonne Townsend and Roland Henry Townsend August 6, 1958 in Vancouver, WA. A lifelong resident of Clark county, Mike grew up in Camas and briefly worked for Haag & Shaw alongside his father before eventually being offered a job at Metro Metals as general labor, climbing the ranks to scaleman then heavy equipment operator. He later jumped on the opportunity to transition the the newly built facility Pacific Coast Shredding, where he continued to work until the day he was no longer able to work. In his younger days Mike was a partier for sure, but as he grew older his focus turned to providing for his new family. He went to work every day to ensure they never went without, no matter what.

As an avid gardener he loved the natural world and growing plants of all types. He often incorporated the products of his garden into his other passion, cooking. His masterfully crafted meals gave him a great sense of pride and a smile knowing he could provide to others.

He is preceded in death by his longtime partner Christine Joyce Pupa, the mother of his only son; and his parents. He is survived by his son Michael Townsend Jr.; stepchildren Maryjane Dunne and Peter Dunne; brothers Rick Townsend and Tracy Townsend; and sisters Terri Townsend and Lu Ellen Townsend. We miss him dearly.

Services will be held at Zion Lutheran Church in Camas December 22, 2018 at 11:00 a.m. A graveside committal will follow at the Camas Cemetery. Mike's luncheon to follow after at Zion Lutheran.

Donations may be made to Zion Lutheran Church or the American Stroke Association in his name. Flowers may be delivered to Brown's Funeral Home. You may also bring a dish to share for his luncheon if you like.