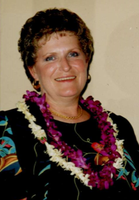 Mary Elizabeth Molinar
Obituary
Mary E. Molinar 73 passed away January 26, 2019 at her home in Washougal, Washington.
The daughter of Joseph and Margaret Amstadt, Mary was born in Santa Ana June 18,1945. She was the youngest of five children. She grew up in Pasco, Washington and graduated from Pasco High School in 1963.
She developed her distinct work ethic by working for her parents at Tri City Meat Supply and at Zips Drive In. During high school she was employed at the Tri City Herald and Youngs Clothing store which included work as a model.
After graduation, she improved her marketing and customer skills in dealer finance. This experience led to a 30-year Mortgage Banking career with Citigroup NA. She retired in 2005 and concluded her career as a mortgage consultant in Spain and England. After retirement Mary and Larry moved from St. Louis, Mo.to Washougal, WA. The move was to return to the beloved North West and build the home of their dreams on the Washougal River.
Mary was an avid golfer and fan. Her love of flowers was exhibited by never ending fresh arrangements at home and blooms in her garden. Whether attending in person or viewing on television, sports were very important. She also loved to host dinners and casual get togethers from her epicurean kitchen. The Super Bowl and New Year's Eve celebrations were highly anticipated by friends and family.
She is survived by her husband, Larry, their sons, Chuck (Karen) of Mesa, Arizona Steve (Amanda) of Albany Oregon, Alan of Vancouver, Washington and her sister Marguerite Amstadt of Whitefish, Montana. She is also survived by seven grandchildren and two nieces Katie (Amstadt) Pendleton and Robin (Amstadt) Audet. She was predeceased by her parents and three brothers Carl, Joseph and Ray.
Celebration of Life Services will be held at Brown's Funeral Home in Camas, WA. Interment will follow at Washougal Cemetery. Date Pending.
Mary had many charitable interests and they included the Parkinson's Foundation and Portland Rescue Mission. In lieu of flowers, donations to these charities will be appreciated.