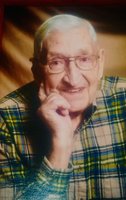 Thomas Lee "Tom" Wilson
Thomas Lee "Tom" Wilson, passed away on January 30, 2019 at the age of 93.
Tom was born to his parents Pearl Neeley and Charles Wilson in Vancouver, Washington on July 30, 1925. Tom was a veteran of the U.S. Navy Amphibious Corp, serving during the invasion of Normandy in WWII. He spent his later working life as the Transportation Manager for the Stevenson School District. Tom was a lifetime resident of Skamania and Clark County. He was Past Master of Washington Lodge #4 F&A.M, a member of V.F.W #4278 in Camas, and was also a Boy Scout troop leader.
Tom is survived by his sons Dan (Debra) Wilson of Vancouver and Tom (Debbie) Wilson, Jr. of Astoria; 5 grandchildren and several great-grandchildren. Tom was preceded in death by his parents, his wife Clarice, his son Craig and his daughter Julie.
An immediate family graveside service will take place on Saturday, February 9, 11 AM at Park Hill Cemetery. A celebration of life service will follow at the Washougal United Methodist Church at 2 PM. All are welcome. In lieu of flowers, donations can be made in Tom's name to the West Columbia George Humane Society. Arrangements have been entrusted to Brown's Funeral Home. To sign the online guestbook, please visit www.brownsfh.com