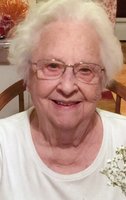 Ella Rosalie Hamilton
Ella Rosalie Hamilton, born August 4,1931, passed away peacefully on April 8, 2019, of natural causes. She lived in Washington State with her daughter and son-in-law since the passing of her beloved son in 2014.
She was retired from The Ohio State University Hospitals. Rosalie had a passion for reading and playing bridge. She was a member of The Clintonville Women's Club along with being a loyal fan of The Ohio State Buckeye Football Team.
Ella Rosalie is survived by her daughter and son-in-law, lan and Shaun Parent (Washington); Granddaughter and her husband: Amanda and Eric Wagner along with two great-grandsons- Kyle and Blake Wagner (Idaho); sister, Peggy Hockman (Ohio), brother, Bill Adams and wife Jo (Georgia). Along with numerous nieces, nephews and great-nieces and nephews.
Rosalie was preceded in death by her husband, Robert E. Hamilton; son Robert E. Hamilton JR ; mother Elnora Adams; father Fred Adams.
The family wishes to thank numerous relatives and friends for the support and love they have shown.
Arrangements are being handled by Browns Funeral Home in Camas, Washington. Rosalie will be interned in Ohio, at a date yet to be determined.
In lieu of flowers family request contributions be made to The American Heart Association, and local libraries.