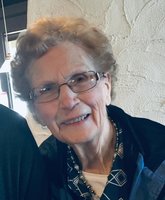 Audie Wray
Audie Collins Wray died on April 14, 2019 in McMinnville, Oregon. Audie was born on December 21, 1929 to Ward Ragsdale and Eliza Ann Gerrad in Benninton, Oklahoma. She was the middle child of nine children. She graduated from high school when she was 16 years old and went to college in Durant, Oklahoma living with a pastor and his family. She married Charley Dayle Collins in Oklahoma on November 1, 1947 and travelled with the entire Collins family to California, eventually settling in Washougal, Washington. They had 6 children, Cathy Collins(Russell Smith) McMinnville, OR, Rick Collins(Diane) Washougal, WA, Connie Collins Vancouver, WA, Cassandra Cook(Pat) Gig Harbor, WA, Sabrina Collins Rockwall, Tx and Carl Collins(Linda).
Dayle Collins died on September 23, 1983 and seven years later, Audie met Virgil Wray in an art class and they were married January 14, 1990. They lived in Long Beach, WA and Kalama, WA eventually moving to McMinnville, OR in April 2012. During their 29 year marriage, they travelled all over the United States and enjoyed taking oil and water color painting classes and visiting family and friends.
Audie was an astounding artist and her oil paintings are a prize possession in family and friends homes. She also crocheted, knitted, created jewelry and canned fruits and vegetables. She was a member of the Cherokee Tribe of NE Alabama and Eastern Starr. Her first job in Washougal was at the Washougal Woolen Mill and then worked for the Public Works Department in Camas. Her last job was with the PUD in Washougal where she retired at age 60.
Audie had a generous heart, a positive spirit and always found the good in individuals. She would often express how fortunate she was because she had a good life and a wonderful family. She was preceded in death by her parents, son Carl, her brother George and sisters Anne, Lillie, Sue, and Pauline. She is survived by her 5 children, 13 grandchildren, 9 great grandchildren and 1 great great grandson. In addition, when she married Virgil Wray, she added 3 sons, 7 grandchildren and 12 great grandchildren.
Services will be held on April 22, 2019 at 11am at Browns Funeral Home.