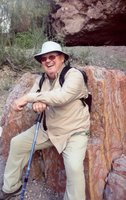 Tim "Tim" Hughes
Harold "Tim" Hughes, 67 of Vancouver, WA, formerly of Toronto, OH, died peacefully on May 13, 2019 surrounded by family. He was born on September 5, 1951 in Toronto, OH, the son of Harold Bernard Hughes and Martha "Jayne" (Guthrie) Hughes.
Tim studied at the University of Akron and Cameron University achieving a bachelor's degree and became a Captain in the U.S. Army. Upon retiring, he gained a second career working for the Washington State Division of Child Support. He was dedicated to improving the lives of others through his volunteer work and his labor union.
Having survived a shipwreck, cancer, and a heart attack, Tim embraced each day with a joy and determination to live it to the fullest and without regrets. He enjoyed traveling the world with his wife Joelle, gardening, fishing, golfing, listening to music and spending time with his family and friends. He was known by those who love him for his optimism, kindness, wanderlust, strength of character, gregarious nature, and his indomitable spirit.
He is survived by his wife, Joelle Naguet-Hughes; Daughters Erin Pultz of Lawton, OK and Rachel Sakelaris and her husband Chris of Columbia, MD; Grandchildren Aidan Pultz, Kendall Pultz, Thomas Sakelaris and Theodore Sakelaris; Sister Sally Porter and her husband John of Toronto, OH.
If you would like to make a donation in Tim's name, please do so to the American Leukemia and Lymphoma Society.