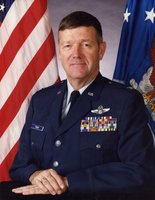 Bill "Bill" Peden
William "Bill" Peden, 77, died Monday, May 20th in Brush Prairie, WA with family by his side.
Bill was born May 29th, 1941 in Redmond, OR to George and Maxine Peden. He was living in Clark County going on 26 years when he passed.
Bill attended Oregon State University where he cherished his time spent in the ROTC program. He went on to graduate OSU with a bachelor's of science. Bill also served his country as a pilot in the US Air Force and went on to serve 37 years in the Air Force Reserve. He proudly made it home safe from Vietnam after flying an F-4 fighter plane in over 100 missions. Aside from his dedication to the air force, he also enjoyed spending time in a marching band – The Last Time Around Marching Band, playing sousaphone, as well as sitting as president of the Model A Car Club of Washington – he was an avid old car fan. Bill also was fantastically a part of Pop's Lewis River Dixie Land Band.
Mr. Peden is survived by his wife at home, Mary Jane Peden, Brush Prairie, WA, Son George Peden (Cheri) of Beaverton, OR, other son Ryan Lusher of Maricopa, AZ, daughter Anna (Rod) Jackson, Tillamook, OR, sister Josie Hyde of Aurora, OR and 4 absolutely loved grandchildren. He also lovingly raised his step children as his own.
He was preceded in death by his parents, and brother George Peden.
Services will be held Saturday July 13th at 11am at Fourth Plain Church of the Nazarene with Pastor Jeremy Henderson and Pastor Lyle Coblentz officiating. Arrangements held with Brown's Funeral Home 360-834-3692.