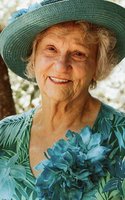 Geraldine Frances "Nanny Dee" Campbell
Geraldine F. "Nanny Dee" Campbell, Age 82, passed away at her home on May 23rd, 2019. Mrs. Campbell was born February 18th, 1937 to Jess and Wilma Helton in Spokane, Washington. She had been a Clark County resident since 1958.
She was a member of the Eagle's Lodge in Portland, OR, and Vancouver Lodge #823 B.P.O.E. She attended Crossroads Community Church in Vancouver, WA. She enjoyed her family and playing Mrs. Santa Clause. She also very much enjoyed dancing and puppeteering.
She is survived by her 2 sons Robert (Lourdis) Campbell of Washougal, WA, and Floyd (Caitlin) Campbell of Seattle, WA. Also, her daughters Bonita Campbell of Portland, OR, Toni (Jim) Papaden of Redmond, WA, and Sherrie Campbell of Washougal, WA.
She was preceded in death by her parents, son Carl Campbell, and 2 brothers.
A celebration of Life service will be Wednesday, May 29th at 11:00 am at Brown's Stoller Memorial Chapel in Camas, WA.
Brown's Funeral Home has been entrusted to the arrangements.
To sign the guestbook, go to brownsfh.com.