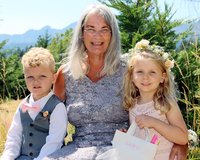 Susan Ann Tornow
Susan Ann Tornow, Age 71, Passed away May 20th, 2019 in Clackamas, Oregon. She was born to Otto and Clarice Brindamour on July 30th, 1947. She had been a Camas resident since 1974.
Mrs. Tornow received her Bachelor of Arts at Central Washington State College in Ellensburg, WA. She was a teacher that taught in the Adna and Camas school districts. She enjoyed her family and playing dolls with her granddaughter, and spending time on the Columbia River.
Mrs. Tornow is survived by her husband Con, at home, her 3 sons, Chase Tornow of Vancouver, WA, Colin Tornow of Camas, WA, and Cord (Colette) Tornow of Washougal, WA.
She was preceded in death by her parents, and brother, Gary Brindamour.
A celebration of life service will be Wednesday, May 29th, at Brown's Stoller Memorial Chapel at 4:00pm. Interment will be at the Fern Prairie Cemetery.
Brown's Funeral Home has been entrusted to the arrangements.
To sign the guest book, go to brownsfh.com