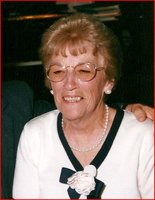 Bernice E Millar
Bernice E Millar, 91, passed away peacefully 06/05/2019 at her home in Vancouver, WA.
Born to A.T. William and Ethel Bartow in Canada, Bernice went on to move to the US and raise a family with her husband Malcolm. They had 4 sons, Frederick (Elizabeth) Millar of Sequim, WA, Bart (Carol) Millar of Santa Barbara, CA, Robert (Lisa) Millar of Camas, WA, and Gordon (Stephanie) Richardson Millar of Vancouver, WA. She had 10 grandkids and 2 great grandchildren that she also loved very much.
In her spare time, Bernice was active in her church, Cascade Presbyterian in Vancouver, she also spent time as a member of the local YMCA, was a gardener, and avid seamstress and knitter, and did a lot of painting and home and furniture repairs – always finding the beauty in something that could be spruced up. When she wasn't hard at work, she loved spending time with family and learning all she could about her family through genealogy work.
Bernice is survived by her children and preceded in death by her parents and husband Malcolm.
Arrangements are entrusted to Brown's Funeral Home 360-834-3692.