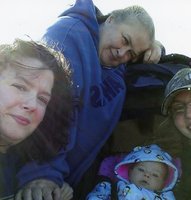 Debbie "Debbie" Tuerk
Deborah "Debbie" Sue Tuerk, 60, of Washougal Washington, passed away 07/27/2019 amongst her beloved family.
Debbie was born and raised in Washington State, originating in Brewster, WA. She was cared for by her parents Bruce Buzz Morely and Carolyn Grable along side her brother, Dennis McConnell (Amity, OR). For the last 43 years, Debbie has been happily married to Tom Tuerk, as well as a super mom to daughters Cheryl Davenport and Carolynn Tuerk, and son James Crisman as well as bestie to her granddaughter, Debbylynn. She has so many other loved ones in her life that she would have considered her children as well! Dear friends that she kept in her life were Mary Angello of Vancouver, WA, Romana Paynter and Jimmie Scott both from Vancouver, WA and Jennifer Trenary from Battle Ground, WA., and last but not least, her wifey, Theresa Chandler.
Debbie was usually spending time with the people she cared about, but she had many other qualities to life that kept things interesting! Her foremost favorite past time was to play with her only grandchild, Debbylynn. She also loved the outdoors, nature, trees, ect and could also be found caring for animals or raising money to help the West Colombia George Humane Society in her free time. Her charity work did not end there; she also helped the homeless find residences and was always caring for others in her community. She was like Mom to everyone she knew and loved doting on others. Another love of Deborah's would be Christmas, she loved Christmas!
Debbie was preceded in death by her parents, survived by her beloved friends and family and many others she was connected to in her beloved community in the Camas/Washougal area!
The family is planning services amongst themselves at a later date. Arrangements are entrusted to Brown's Funeral Home 360-834-3692.