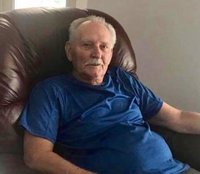 William Matt Wentz
William "Bill" Matt Wentz passed away on Wednesday, August 28, 2019. Bill Wentz was born October 16 ,1937. He grew up in Balta, North Dakota where he graduated from Balta High School in 1957.
Bill was married to his loving wife of 58 years on June 2nd 1961. In 1977 he moved his family to Oregon, due to his love of trees, mountains and the beach. He worked at Landmark Ford for 27 years where he retired to enjoy more free time. Bill Wentz was a devoted husband, brother, father, grandfather and great grandfather. He loved traveling with his family and had many adventures across the country with them. He had a great passion for playing guitar and country music. He also enjoyed watching the Blazers and never missed a game! He loved sitting on his back porch swing with family, friends and his lovable puppy Lily, telling stories of his past, while enjoying and creating new memories.
Bill Wentz loved his wife beyond measure. He was a proud father of 5 girls and 2 boys, Debbie Carver, Diane Wentz, Sue Hyatt, Laura Wentz, Bill Wentz Jr, Cindy Shodin, and Michael Wentz. Bill had 11 grandchildren and numerous great grandchildren. Also, his sisters Hattie Witt, Ann Wiebusch, Robert Wentz, Yvonne Wentz and several nieces and nephews. He was proceeded in death by his parents Joseph and Eugenia Wentz and His sisters Marcy Loberg, and Phyllis Maddock.
No formal services will be held per his request.