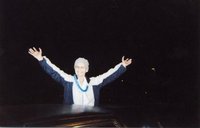 Edna Ruth Thomas
Edna Ruth Thomas passed away in Vancouver, WA on February 9, 2005 at the age of 54.
Ruth was a drug and alcohol counselor and often was a sponsor for alcoholics anonymous. A Clark County resident since 2002, Ruth enjoyed watching movies, working as a caregiver, was a licensed massage therapist, and loved animals. Most of all, Ruth loved her family and friends.
Ruth is survived by her daughter Debbie Hartsoch of Vancouver, WA and her two sons; Bo M. Scarbrough of Smiley, TX, and Glen W. Hartsoch of Houston, TX. She is also survived by her mother Edna E. Thomas of Camas, WA and her Uncle John Lucas of Corpus Christi and Aunt Alice David of Corpus Christi, TX. Ruth leaves behind six grandchildren; Teri, Kirsten, Hannah, and William Hartsoch, and MP and Michelle Scarbrough.
A celebration of life service will be held on Tuesday, February 15, 2005 at Brown's Funeral Home in Camas, WA. Interment will follow at the Camas Cemetery. Brown's Funeral Home is in charge of arrangements.